International incident between Meinersen and Leiferde
24 November 2022

Due to a train collision of 2 freight trains between Meinersen and Leiferde (nearby Gifhorn) (route Hannover – Wolfsburg) on Thursday, November 17 at around 3:26 am, the ICM case (international incident lasting longer >3 days) is declared by DB Netz for RFC North Sea-Baltic and RFC Orient/East-Med, the affected area is on both corridors. The accident train was carrying tank wagons with propane gas, 4 wagons and loco derailed.
DB Netz AG is currently working on the pumping the gas out from the wagons. Construction works will start next week. Track damage will continue at least until December 16, 2022.
Re-routing available:
Wittenberg – Stendal – Magdeburg (2)
Hannover – Gottingen – Nordhausen - Halle -  Magdeburg (3)
Hannover – Bebra – Erfurt – Halle – Magdeburg (4)
Re-routing not available due to ongoing construction works until 10.12.2022:
Hannover – Braunschweig – Magdeburg (1)
Braunschweig – Wolfsburg (1)
Re-routing not available due to being used as main line for passenger re-routing:
Hannover – Uelzen – Stendal – Magdeburg (5)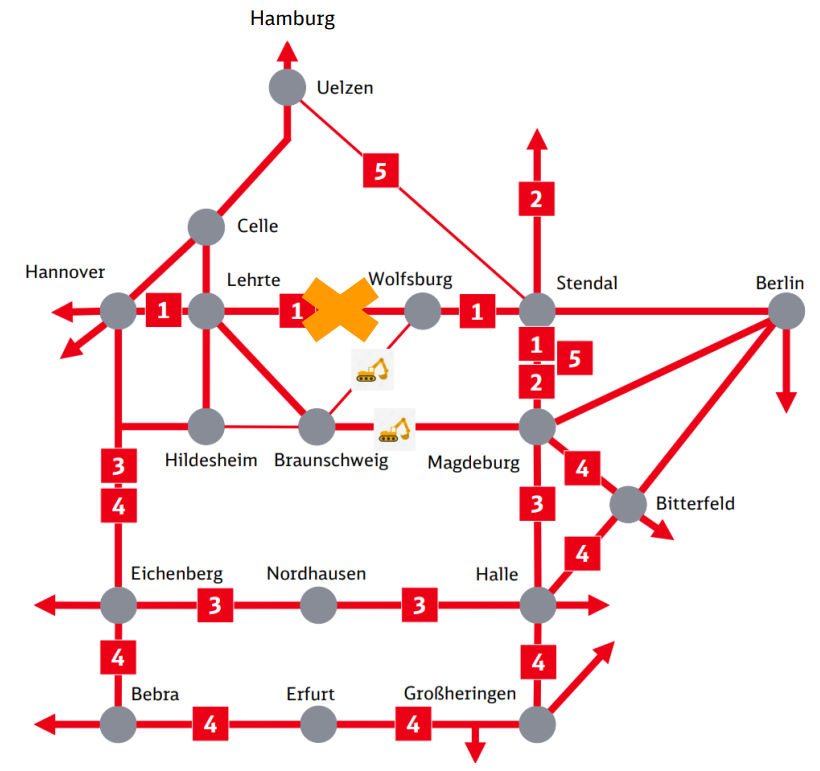 Long-distance freight traffic from/to/via the Ruhr-Area is best to be re-routed via Hanover – Göttingen-Halle or via Bebra – Erfurt.

Telephone conferences with affected railway undertakings along the closed section are taking place on a national basis continuously.