RFC OEM RC offer for TT 2024 is published in Path Coordination System (PCS) and has been continuously updated since 9th October 2024. 
RFC OEM PaP offer for TT2024 was published on 9th January 2023.
PaP catalogue is available via the following link:
RFC OEM Digital PaP Catalogue for Timetable 2024 (last updated: 12-01-2023)
~
Reduce your efforts of requesting infrastructure capacity by using the service of Rail Freight Corridor Orient/East-Med! We are offering harmonised international train paths for freight with improved performance, which can be requested at the same place and same time via our Corridor One-Stop Shop (C-OSS). No need to contact the allocation offices of each network on your train's route, just contact our C-OSS!
We are offering off-the-shelf capacity products, which are still equipped with the necessary flexibility to suit your individual needs. Capacity for the annual timetable is labelled as 'pre-arranged path' (PaPs), while during the ad-hoc request phase please look for our 'Reserve capacity' (RC). Both products are displayed in a transparent way in the IT tool 'Path Coordination System' (PCS). Details can be found in Section 4 of the Corridor Information Document.
Should you need to look beyond our catalogues, and seek for a tailor-made solution, do not hesitate to consult our C-OSS, which will arrange and harmonise individual train paths provided for the networks on your route, and submit to you the capacity from the different infrastructure managers in one package.

Requests for RFC products can be placed online using PCS.
If you are already a registered user, click on the logo for submitting your request: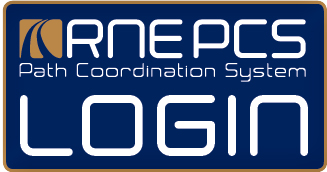 If you are not a registered PCS user, please contact the PCS Service Desk at support.pcs [at] rne.eu
PCS Service Desk will send you the PCS User Agreement. Documentation and training materials are available and updated regularly at https://docs.rne.eu/pcs/
For more information please visit: https://rne.eu/it/rne-applications/pcs/