International incident: total closure between Szob and Nagymaros - updated: 13-06-2022
10 June 2022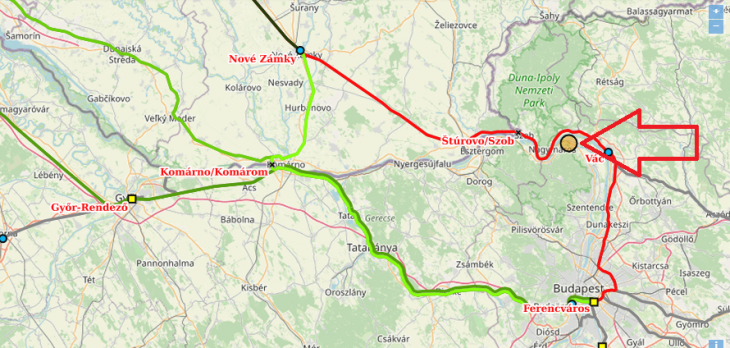 13-06-2022:
Following the damage assessment, MÁV published the following update:
Single line operation is expected from the middle of August.
Full line operation is expected from early September. 
Freight trains shall use the rerouting options listed below.
--------------------------------------------------------------------------------------------------------------------
10-06-2022:
On 9th June afternoon, due to heavy rainfall, mudslide and falling rocks closed both tracks between Szob and Nagymaros on the line Budapest - Szob/Štúrovo - Nové Zámky - Bratislava.
Mud and stones cover the tracks approximately 1000m long.The water partially washed away the subgrade and the ballast as well. The damage is shown in the video below:
According to the national rules, all affected train paths were cancelled in Hungary and Railway Undertakings were informed about the incident. 
Passenger trains were replaced by buses and ferries (as the road next to the tracks is also affected). 
For freight trains rerouting options are as follows:
Ferencváros - Komárom/Komárno
Ferencváros - Rajka/Rusovce
Ferencváros - Hegyeshalom - ÖBB network towards CZ/SK
Furthermore other border crossings are also available like Fiľakovo - Somoskőújfalu,  Čaňa - Hidasnémeti and with restrictions Slovenske Nove Mesto - Sátoraljaújhely
The first evaluation of the incident and the time estimation of restoration are ongoing.
The incident was recorded in RNE TIS and will be refreshed continuously.